Fabrinet (NYSE:FN) is a great medium cap with solid revenue and EPS trend and very strong balance sheet. The long-term bullish trend is also very valuable.
Business model
Fabrinet is a global provider of optical packaging and optical, electromechanical, and electronic manufacturing services to original equipment manufacturers (OEMs) of complex products. Fabrinet, which was founded in 2000 by Tom Mitchell, is headquartered in George Town, Grand Cayman, Cayman Islands, with the majority of its manufacturing facilities located in Thailand and the United States. According to analysts, the revenue and EPS of Fabrinet could spark higher in fiscal 2023 and 2024. Its absolutely worth to look at the company more deeper.
Earnings season is here: The earnings season continues with big tech next in line 
Fabrinet's business model relies on providing its clients with comprehensive manufacturing services, from design and engineering to production, assembly, and testing. The business caters to a vast array of industries, including optical communications, industrial lasers, automotive, sensors, and medical devices. Fabrinet generates revenue through contracts with original equipment manufacturers (OEMs), which outsource to it various phases of their product development and manufacturing processes.
Fabrinet's clientele consists of original equipment manufacturers (OEMs) from a variety of industries, including optical communications, industrial lasers, automotive, sensors, and medical devices. Lumentum, II-VI, Inc., and Acacia Communications are examples of well-known customers. A diverse customer base mitigates the risks associated with reliance on a single industry or client.
Also read: BBBY goes into bankruptcy, shares plunge 20% 
The competition edge
Other contract manufacturers that provide comparable services compete with Fabrinet. Benchmark Electronics, Jabil, Flex, and Sanmina are key competitors. Based on their respective expertise, size, and geographic locations, these businesses offer varying levels of competition. Since early 2022, some of its peers performed better than FN. 
Key FN´s competitors, Source: Seeking Alpha via YCHARTS
Advantages of the Fabrinet:
Diversified clientele: The diversity of Fabrinet's clientele mitigates the risks associated with reliance on a single industry or client.
Expertise in sophisticated optical packaging and precision manufacturing: Fabrinet's concentration on these areas distinguishes it from many competitors and provides a distinctive value proposition to its customers.
Strong global presence: Fabrinet's facilities in Thailand and the United States enable it to serve clients worldwide.
The company's end-to-end manufacturing capabilities, from design and engineering to production, assembly, and testing, can provide customers with a seamless experience.
Disadvantages:
Fabrinet faces intense competition from other contract manufacturers offering comparable services, which could put pressure on its margins and market share.
Although Fabrinet has a diverse customer base, a substantial portion of its revenue comes from a few large customers, making it susceptible to any changes in their business.
As a global company, Fabrinet is exposed to geopolitical and macroeconomic risks related to trade policies, currency fluctuations, and other macroeconomic factors that could affect its operations and profitability.
Read latest forex analysis: EUR/USD jumps above 1.10 after hawkish comments – will it hold?
Income statement & forward estimates
Looking at the income statement, we observe a very consistent upward trend. As the company continues to increase its revenues not only annually, but also quarterly, the management is able to advance the company forward and expand its market share. In the trailing 12 months, revenue growth declined to 9% (year-over-year), but in absolute terms, the trend is astounding and stable.
Revenue trend and year-over-year growth, source: Investro analytics team
Revenues are still growing on a quarterly basis, but there are signs of a deceleration. Additionally, in terms of profitability, EBITDA and Net income margins have increased quarterly since 2020, but for the first quarter, they experienced a modest decline. However, increased costs led to a decline in profitability. This is not a major issue, as the company's margins cannot continue to rise indefinitely every quarter. However, profit margin remain at very solid 9.45%.
Fabrinet´s revenue trend (quarterly) and its profit and EBITDA margins, source: Seeking Alpha via YCHARTS
However, it remains very sturdy. This is also the reason why the stock price fell from its all-time high more than 30 %, and the market anticipates that EPS will continue to fall. As a result of very compelling macro and tightening conditions, it would be logical for aggregate company EPS in 2023 to slow down substantially.
Learn from the best: Stunning insights from Warren Buffett´s letter to investors in 2023 
Even if there is a disruption, we believe that this could be an excellent time to pursue an entry point, as the trend is very strong. The stock price's long-term trajectory is also very solid. EPS has more than doubled over the past three years.
Fabrinet EPS trend, source: Seeking Alpha via YCHARTS
Looking forward, it is advisable to consider the consensus revenue and earnings per share projections of analysts. We believe it is significant for two reasons. First, because of future business expectations – business development, and second, because of valuation purposes. The valuation of a company with a stable business model is supported by the DCF model and comparable company analysis.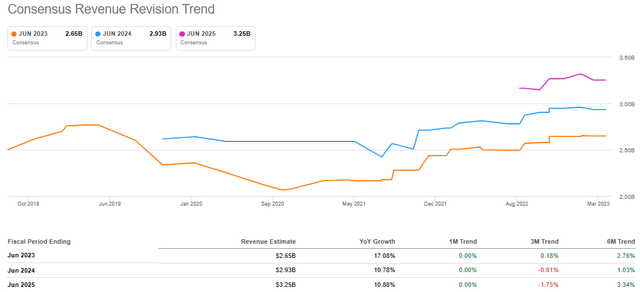 Fabrinet – Consensus revenue revision trend by analysts, source: Seeking Alpha
On the contrary, both the revenue and EPS revision trends are extremely positive. However, the stock price is falling, resulting in a negative discrepancy between the growth of EPS and revenue and the stock price. In the most recent revision, EPS estimates for the current and next fiscal year were unchanged for 2023. However, even if we experience a minor decline in revision, we would not consider it a major issue because the company has made very solid progress over the past three years despite global monetary tightening.
EPS estimates for the current and next fiscal year, source: Seeking Alpha via YCHARTS
Valuation
We find the best method to value such a company is by comparing it to its peers and examining the overall industry levels. That capability is provided by Seeking Alpha's instruments. With stable earnings and revenues, the forward P/E ratio of 14.21 (compared to the sector median of 25.69) and the EV/EBITDA ratio of 9.2 are the finest valuation metrics to consider (compared to 13.56 – sector median).
Watch out of legal "manipulation" of EPS: "Manipulation" of EPS, P/E and other indicators via stock buybacks
It differs from the sector by -44.6% to -32.1%, so the stock price would need to increase by 47% to 80% to reach the industry median valuation in these metrics. In addition, this is the reason why FN valuation Grade is B = very inexpensive.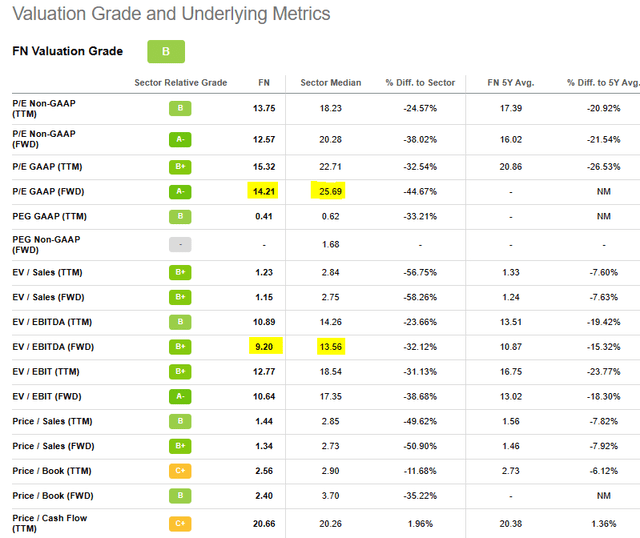 Valuation tools, source: Seeking Alpha
In summary, we consider FN as a very clear and solid long-term opportunity as the business model provides a healthy growth, its balance sheet is strong, and the revision trend seems positive. Moreover, comparing the valuation ratios to those of its peers, the stock seems solidly undervalued.