The second day of Oslo Freedom Forum has brought again great talks, discussions and panels. What could the people attending OsloFF have witnessed?
Silencing those, who are opposing the system
Before we start, if you missed the first day of the Oslo Freedom Forum, you can find our take on it here. The program of the second day started with Chemi Lhamo, Tibetan activist and community organiser, Filmon Debru, human trafficking survivor from Eritrea or Yeonmi Park, North Korean Human rights activist and HRF Board member.
All of these talks, and some other talks that occurred in the past two days, were trying to show how dictators and oppressive governments all around the world try to silence those, who are opposing their systems. Whether that is through misleading propaganda, stalking, torture, imprisonment or even death threats, malicious governments and authoritarian regimes do not stop with chasing those, who are willing to speak the truth.
Some of the most interesting quotes of the session:
Chemi Lhamo speaking about the pressure from Chinese government:
"Even in exile, they have come to silence us."
Filmon Debru talking about the oppressive regime in Eritrea:
"When the regime starts going after you, you wake up."
Yeonmi Park on misleading propaganda and false information in North Korea:
"Kim Jong-un was my god, that could read my mind. I was afraid to think."
Ukraine and hope 
The second session could be essentially divided to two main themes. The first topic was concerned mainly with events in Ukraine, through a video talk of Dmytro Kuleba, Minister of Foreign Affairs of Ukraine or through the speech of Garry Kasparov, Chairman of the Human Rights Foundation. Both of their talks could be summarised with two quotes, one from each.
Dmytro Kuleba on freedom and current fight against Russia:
"Our freedom has not been granted to us."
Garry Kasparov portraying the significant difference between the situation of Western countries and Ukraine:
"The price for freedom for Western countries is money, a lot of money. But Ukrainians pay in blood."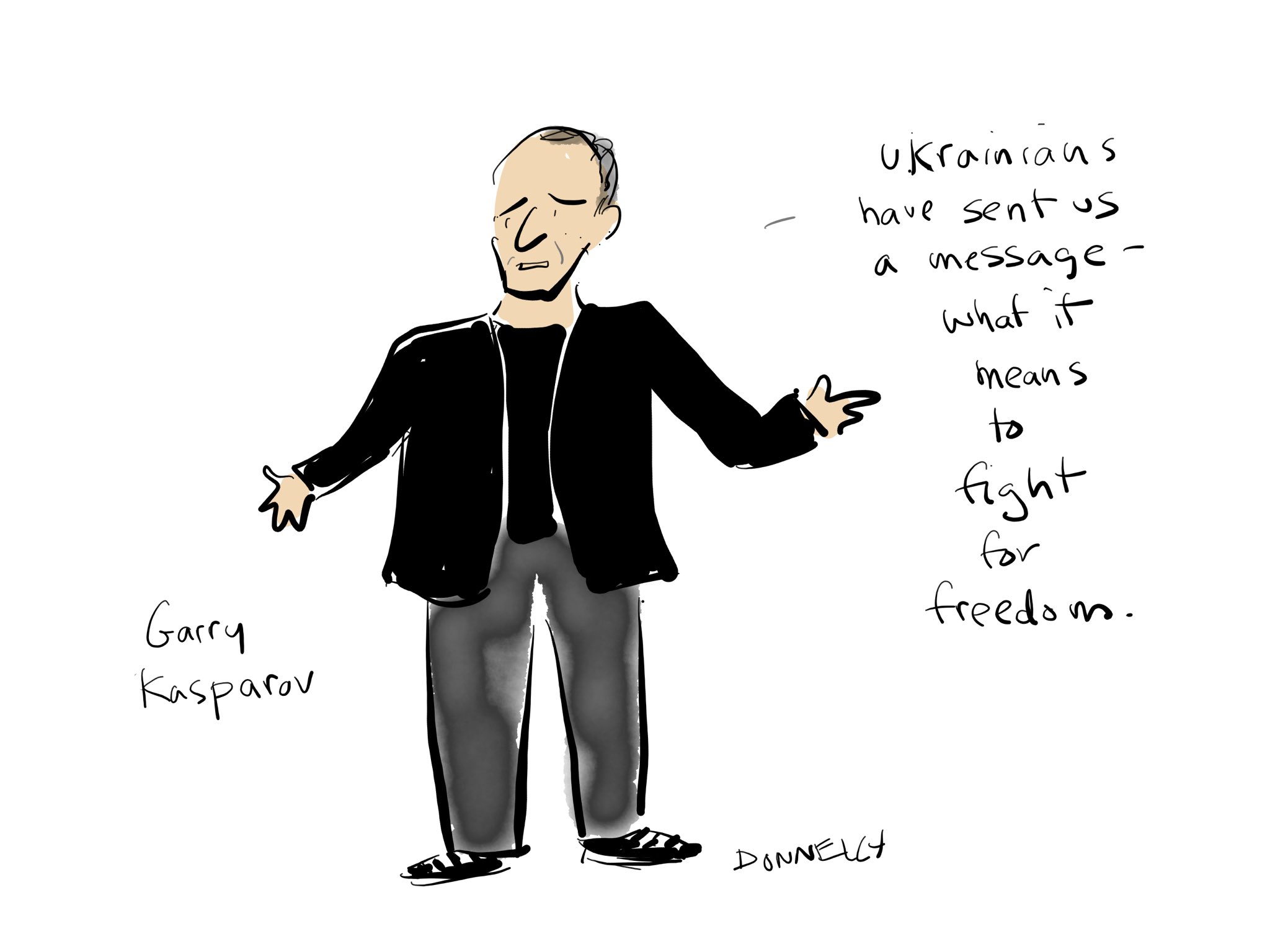 Garry Kasparov on freedom and Ukraine, Source: Twitter, Liza Donnelly
While both of them highlighted that the situation is still critical, they also showed that through help, it can get better and that the situation in Ukraine can find a resolution. And that was the second huge idea that was connected to this panel. The idea of hope.
Hope for better future, financial freedom, freedom from oppression or authoritarian shackles was portrayed through various speakers. For instance, Roman Dobrokhotov, Editor in chief of The Insider stated that he believes that the journalists now have incredible tools to use in the fight against injustice all around the world. He also stated the following:
"I want to encourage young journalists to use the digital tools to challenge the dictatorships."
In one of the most creative blocks, Sakdiyah Ma'ruf, Indonesian stand-up comedian shared parts of her life through comedy, a truly incredible and innovative way to tackle difficult life situation. And the reason why she deals with it this way? According to her own words:
"Joy is an act of resistance."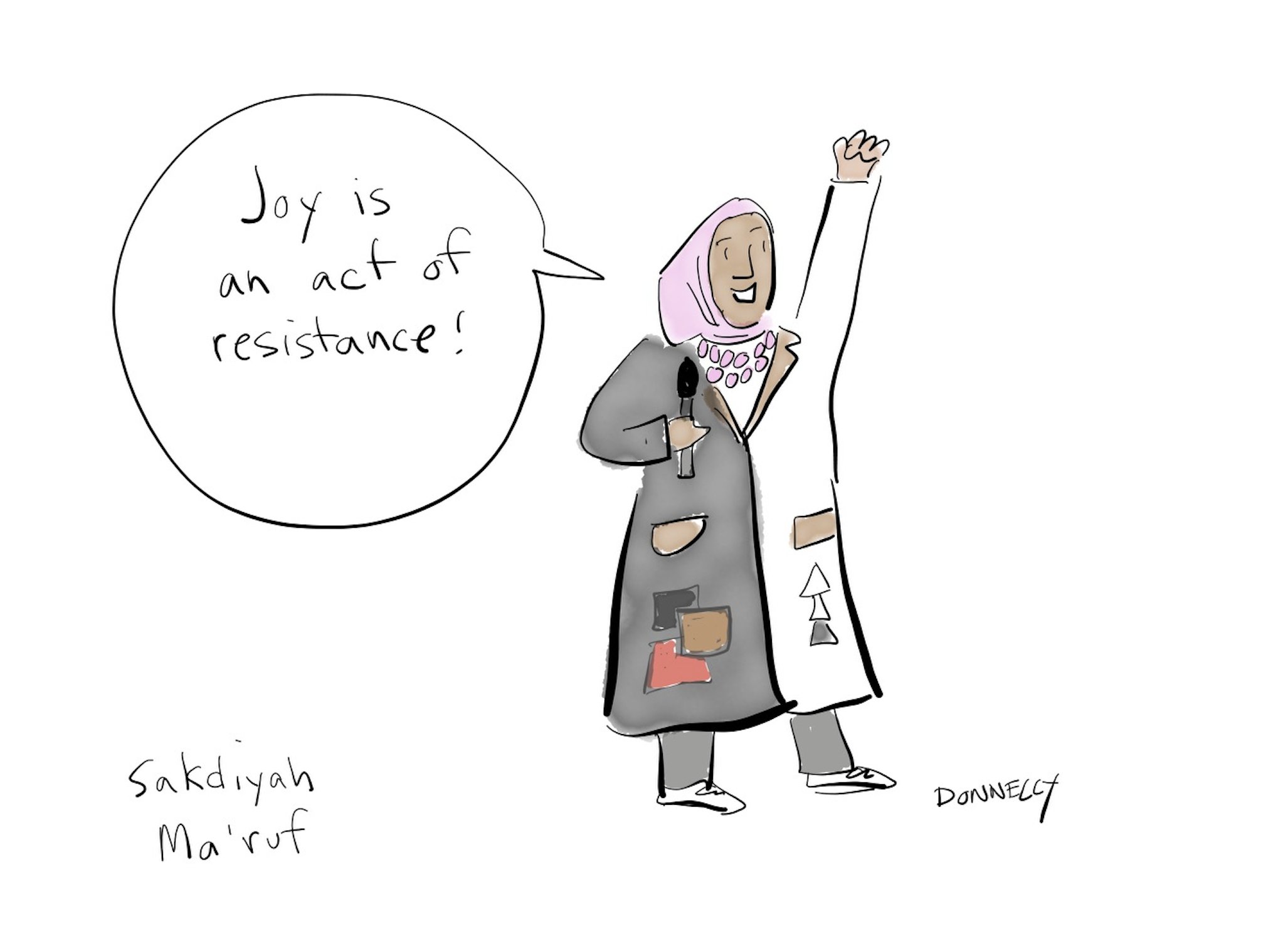 Sakdiyah Ma'ruf, Source: Twitter, Liza Donnelly
Jack Mallers, CEO of Strike, and Fodé Diop, Senegalese Financial Freedom Advocate, then showed, how Bitcoin can help countries in Africa to move from a colonial currency that is still used inabout 15 African countries. As Diop said, if the French control the money, they can control the destiny of the countries. He also pointed out that black people all around the world do not have the resources to use the financial world and tools. Jack than followed by showing that Bitcoin could help with this and stated:
"If you do not want it, do not use it, but do not discourage those who need it from using it."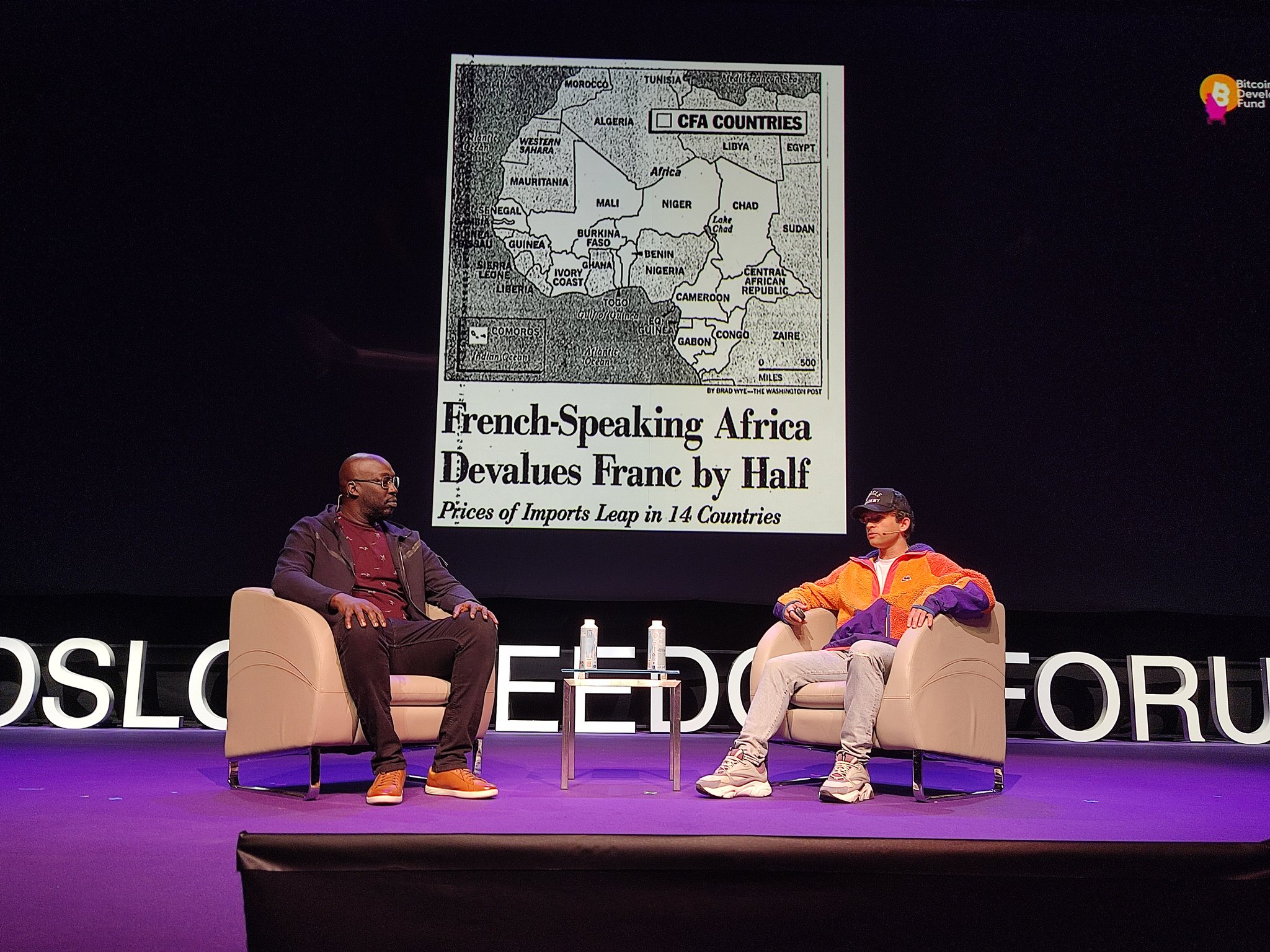 Mallers and Diop on Bitcoin and Africa, Source: Twitter, Aaron van Wirdum
Is Bitcoin compatible with democracy?
Bitcoin was a centre of attention for several other panels. One of them, led by Anita Posch, Author of (L)earn Bitcoin and Founder of Bitcoin for Fairness, was asking questions connected with Bitcoin to panel including Jaroslav Likhachevskiy, Co-Founder of Bysol, Farida Nabourema, Togolese human right defender, Nelson Rauda, Salvadoran investigative journalist and Leonid Volkov, Russian anticorruption advocate, politician and Chief of staff for Alexei Navalny.
While this panel brought a balanced discussion on whether Bitcoin has what it takes to improve the lives of the people all around the world, the answers of Nelson Rauda got the attention of the audience the most. He not only brought interesting points of view on Bitcoin adoption straight from Salvador, but also stated the following on Chivo wallet (Bitcoin wallet created by government of El Salvador):
"Chivo wallet is essentially a surveillance tool, since the government can see what you are doing."
The top-down adoption of Bitcoin, which is something that happened in Salvador, is something that was frowned upon by many panellists, who encouraged the adoption from bottom up. Adoption from everyday people, who choose to use Bitcoin and are not forced to use it by their leader or government. Definitely an interesting and balanced debate, which was nicely summarized by Anna Baydakova from CoinDesk. 
Bitcoin, the environment and human rights
Another interesting and informative debate was also delivered by Troy Cross, Professor of Philosophy and Humanities at Reed College, Lyn Alden, Founder of Alden Investment Strategy, Darin Feinstein, Founder of Core Scientific and Nic Carter, General Partner of Castle Island Ventures. From the start it was clear that the panel of experts of this quality will deliver only the best content about Bitcoin and its impact on environment.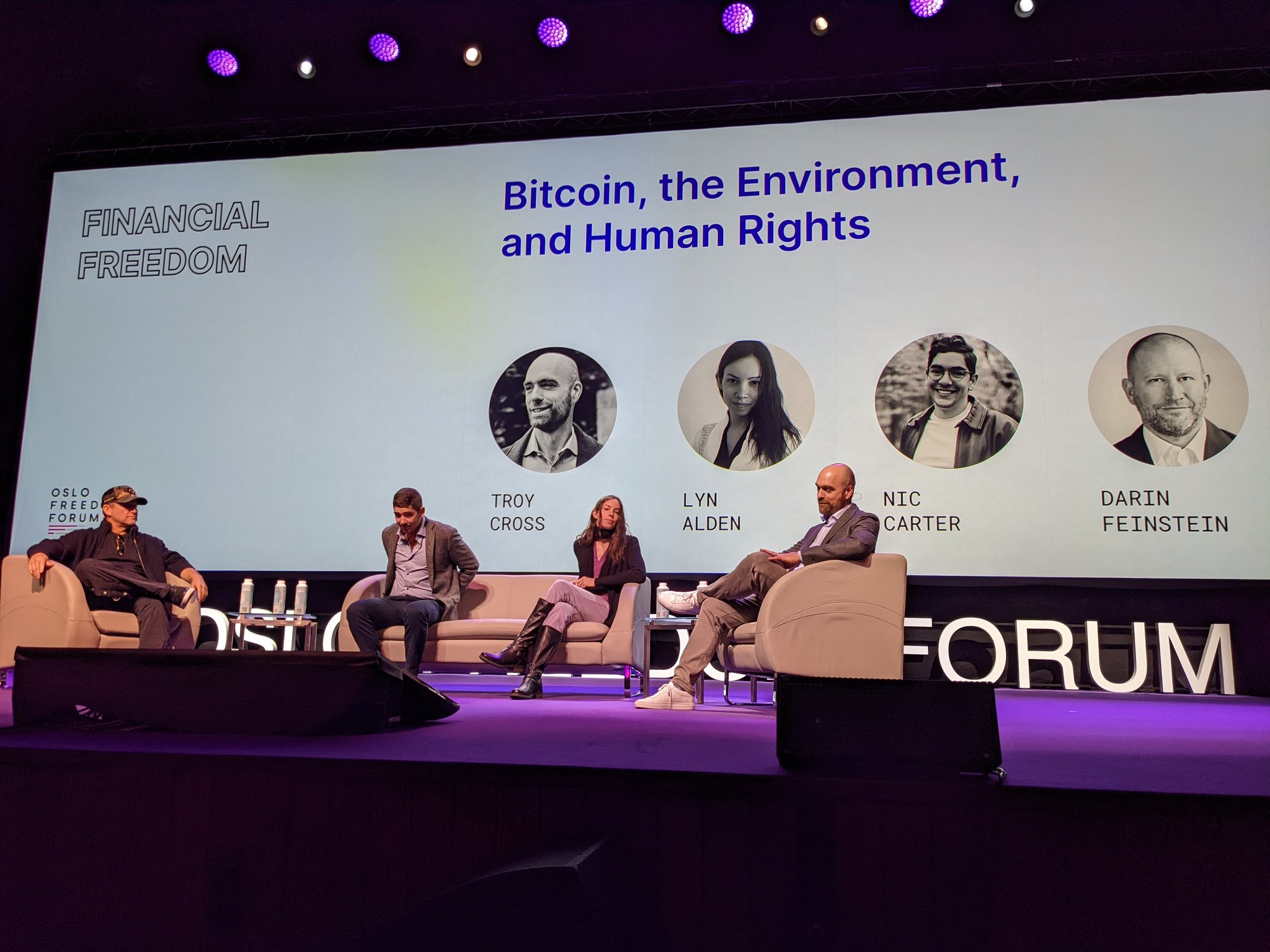 Discussion about Bitcoin and environment, Source: Twitter, Anita Posch
And the three main points that were made during their discussion, can be summarized by three quotes. On Proof of Stake versus Proof of Work, Lyn Alden stated:
"I am not going to say that Proof of Stake is good or bad, but whatever Proof of Stake is doing, its just different from what Bitcoin and Proof of Work is doing."
Darin Feinstein not only pointed out that the energy debate about Bitcoin is being intellectually dishonest by comparing its consumption to smaller countries, but he also made it very clear why Bitcoin is important:
"Bitcoin is the best monetary innovation, because it runs on the best accounting innovation in 700 years."
Last but not least, Nic Carter highlighted why Satoshi Nakamoto might have created Bitcoin in the first place:
"Satoshi created fully depoliticized monetary system. I believe money should be depoliticized; you should be able to transact with whoever you want in a private way."
Conclusion
Obviously, this was not everything that happen. Not at all. The conference was packed by various different guests, speakers, freedom fighters and very inspiring people from different corners of the world who came to share their stories. The last day will be for sure just as interesting and insightful, however, sadly, without the presence of Investro. But if you want to follow Oslo Freedom Forum, feel free to do so via this link.