What happened during the first day of the Oslo Freedom Forum?
Oslo Freedom Forum is a three-day event that brings together fascinating speakers, activists, freedom fighters, human right advocates and many more. The first day is slowly coming to its end, which brings a chance for a bit of a recap of what happened.
Amazing talks, thrilling atmosphere
From the start, it was clear that the Oslo Freedom Forum will be of the highest quality. The line-up of the speakers was full of interesting people and so far, they all delivered. The very first session of speakers included people like Evgenia Kara-Murza, Project Manager of Free Russia Foundation and a wife of Vladimir Kara-Murza (Russian opposition politician), Oleksanda Matviichuk, Head of Center for Civil Liberties, or Omar Alshogre, Director of Detainee Affairs at the Syrian Emergency Task Force.
All of them shared incredible and at times very difficult and tragic life stories. Their lives or lives of their families and friends show that people around the world cannot take freedom for granted. On the contrary, billions of people have to fight, suffer or even die for it, just like we can see now in Ukraine due to Russian invasion. In the words of Oleksandra Matviichuk: 
"Russian's actions cannot be justified."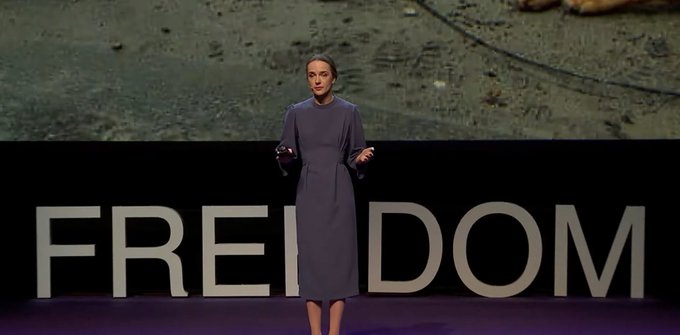 Oleksandra Matviichuk, Source: Twitter.com, Oslo Freedom Forum
The fight for freedom and against oppression of the political leaders was also the message of the next session of speakers, which included people like Bektour Iskender, Kyrgyz journalist and Free speech activist, Fatma Karume, Tanzanian Lawyer and Human Rights Advocate or Scott Carpenter, Director of Policy and International Engagement at Jigsaw. And while these people showed how dictatorship and terribly run governments can ruin lives of millions of people, they also showed that there is always a light at the end of the tunnel.
They pointed out that not only journalists, activists or freedom fighters should express their opinions towards badly run governments or dictators, but encouraged everyday people to do so as well. To show their support for those, who are actively trying to improve the situation of people all around the globe by fighting for basic human rights and freedoms. For them, as for most of the speakers of Day 1. of Oslo Freedom Forum, activity and support of communities goes a long, long way.
The support for Belarus
Probably one of the strongest moments of the first day came at the end of a session of Sviatlana Tsikhanouskaya (Leader of Democratic Belarus), Tatsiana Khomich (Belarusian Activist & Sister of Political Prisoner Maria Kolesnikova) and Veronica Tsepkalo (Chair of Belarus Women's Foundation).
These hugely inspiring women not only showed, how they fight with the oppression of Lukashenko, but how they, their husbands and loved ones inspired hundreds of thousands of people to fight for the future of Belarus. At the end of their panel, whole theatre hall joined them with their mobile phone lights, to show support for what they are doing, to show support for Belarus. Truly inspiring and very powerful moment!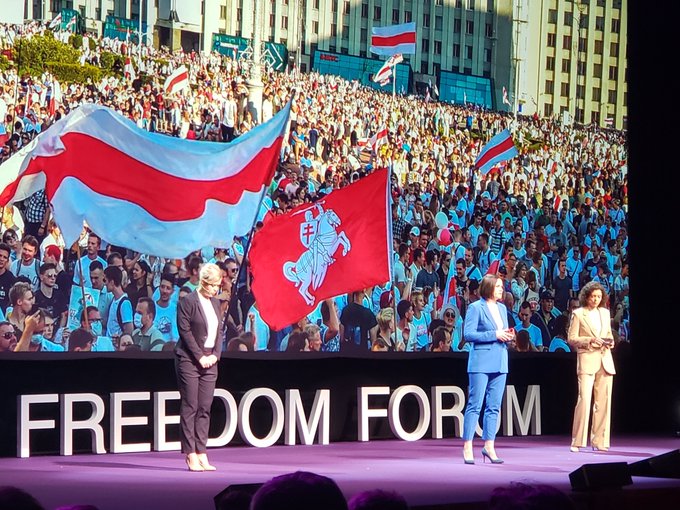 Veronica Tsepkalo, Sviatlana Tsikhanouskaya and Tatsiana Khomich Source: Twitter.com, Irwin Cotler 
Bitcoin panels full of hope
The afternoon brought two panels that were connected mostly to financial freedom and how Bitcoin can help with it. Two panel discussions that were hosted by Alex Gladstein (Chief Strategy officer at Human Rights Foundation) and Lyn Alden (Founder of Alden Investment Strategy), who are strong proponents of Bitcoin, were mostly about Bitcoin and the social and economic impact that it can have all around the globe.
The first panel moderated by Alex Gladstein included Mauricio di Bartolomeo (Co-Founder at Ledn), Roya Mahboob (Afgan Enterpreuner and CEO of Digital Citizen Fund) and Abubakar Nur Khalil (Bitcoin Core Contributor and Board Member of Btrust). Main message of this panel was very clear. While Bitcoin might seem like a digital "rat poison" without any value to people like Warren Buffett or Charlie Munger, it is incredibly valuable to the people that need it the most.
This is thanks to the fact that Bitcoin does not discriminate based on religion, race, age, gender or anything else. The panellists then used stories from their lives to show that unlike today's financial world that builds financial walls, Bitcoin builds bridges to help people transact value to anyone. Thus, it becomes extremely valuable for those, who are being actively excluded from the current financial system.
The second panel that was dedicated to Bitcoin was hosted by Lyn Alden, who was talking to Elizabeth Stark (Co-Founder and CEO of Lightning Labs), Dario Sneidermanis (Founder of Muun Wallet) and Hong Fang (CEO of OkCoin). This panel was called "Can Bitcoin Reach a  Billion People?" and included interesting opinions about Lightning Network and highlighted the growth of LN. Overall it ended up on a hopeful note for Bitcoin and its users.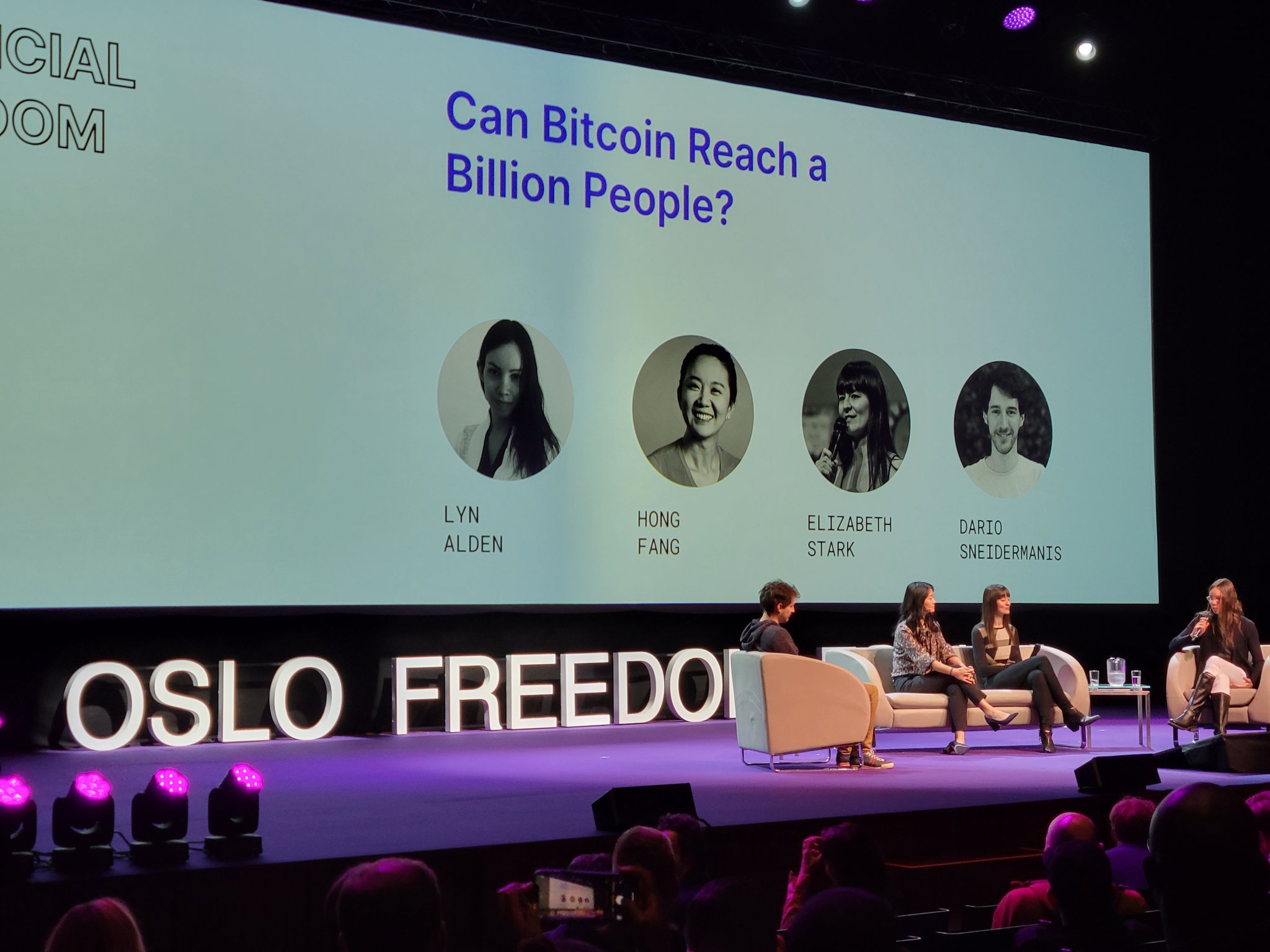 Lyn Alden, Hong Fang, Elizabeth Stark and Dario Sneidermanis, Source: Twitter, Stephan Livera
These two panels will be described more in-depth in a following article.
Conclusion
So far, the Oslo Freedom Forum saw dozens of inspiring activists, whose words are more important today than ever before. However, it would be impossible to summarize all of their talks and panels in one article. If you want to see more of what happened, follow this link.
Let's see what the Day 2 of the Oslo Freedom Forum brings!